Together in Christ: Catholic-Lutheran Ecumenical Study Series
Ottawa
Canada @ (CA)
Tel 2019-03-13
Categoria Events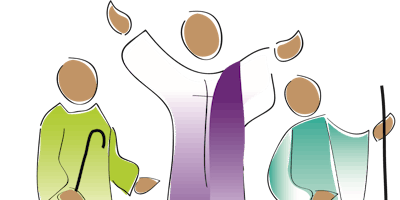 Together in Christ is designed to help members of the Catholic Church in Canada and the Evangelical Lutheran Church in Canada, along with other interested ecumenical partners, to come to know our shared history since 1517 as laid out in From Conflict to Communion: Lutheran-Catholic Common Commemoration of the Reformation in 2017, and to continue our journey together since our joint commemoration of the 500th anniversary of the Reformation. 2017 was the 500th anniversary of the Reformation and the 50th anniversary of Roman Catholic – Lutheran dialogue.  The Canadian Conference of Catholic Bishops and the Evangelical Lutheran Church in Canada have jointly developed study materials so that members of their congregations can gather together in prayer and reflection to mark these milestones.
These study sessions are sponsored jointly by St Gabriel Catholic Parish and the Evangelical Lutheran Church in Canada Eastern Synod Ottawa Ministry Area. Overview of the StudyTogether in Christ contains five study sessions: Session One provides an introduction outlining the scope of the study and discussing the idea of reform and renewal in the church. Session Two provides an overview of the struggles for reform in the 16th century. Session Three looks at the way the post-World War II world began to open the churches to dialogue and stresses the importance of Vatican II. Session Four examines the last 50 years of dialogue between the Roman Catholic Church and The Lutheran World Federation, including the fruit born through the Joint Declaration on the Doctrine of Justification.
Session Five challenges us to think into the future and to vision how we might be called further into both dialogue and reform. Information for Study Sessions: Paroisse Saint-Gabriel Catholic Parish 55 Appleford St, Gloucester  (near Ogilvie Rd & Blair Rd) 6 p.m.  Fellowship & Potluck Refreshments (optional) 7 p.m. Video presentation, Discussion, Bible Study All Wednesday evenings. March 13                          Commemorating the Reformation March 20                          Conflict Breaks Communion March 27                          From Conflict to Communion April 3                              Growth in Communion Through Dialogue April 10                            Commitment to Communion / Prayer Service Please register by February 23  to ensure participant booklets and preparations for study sessions will be available for you.
Thank you.   FAQs   What are my transportation/parking options for getting to and from the event? There is available parking at Paroisse Saint Gabriel.   What can I bring into the event? You are welcomed to bring some treats to share with fellow participants for 6 p.m. refreshments and during break times. This will enhance richly our fellowship times together.   How can I contact the organizer with any questions? If you have further questions, feel free to contact us at
[email protected]
or 613-986-9432.   Do I have to bring my printed ticket to the event? There is no need to bring a printed ticket.