Toronto
Canada @ (CA)
Tel 2019-04-11
Categoria Events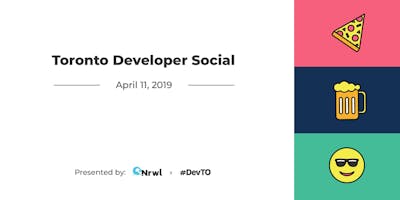 A demo by Victor Savkin, plus a Q&A   ✨A night of Angular, React and Nx - Hosted by Nrwl✨   Don't let the winter blues get you down. Spring is coming up. Join us for a social, and enjoy beer and food at Nrwl's WeWork office, with most of Nrwl's team in attendance. We'll have one demo from Nrwl co-founder Victor Savkin, showing recently-added Nx support for creating and building React apps alongside Angular and other frameworks, to enable maximum sharing of code and tools between teams.   About Victor Savkin Victor is Co-Founder of Nrwl, and a former Googler and Angular team member. While at Google, Victor developed dependency injection, change detection, forms, and the router. Victor worked for many years as a software architect helping build large AngularJS 1.x applications.
He gives talks and writes articles on front-end architectures for Nrwl's blog.  Find Victor on twitter: @victorsavkin.  About Nx Using Nx, you can add Cypress, Jest, Prettier, and Nest into your dev workflow. Nx sets up these tools and allows you to use them seamlessly. These innovative tools offer a lot of advantages and help you work better and smarter. With Nx, you can develop multiple full-stack applications holistically and share code between them all in the same workspace. Nx provides advanced tools which help you scale your enterprise development. Nx helps enforce your organization's standards and community best practices. Nx is built and maintained as an open-source toolkit by contributors alongside the experts at Nrwl, a software consulting firm.
Nrwl helps enterprises through engineering, training and developer enablement products such as Nx, Angular Console, and Nrwl Connect. To learn more, visit nrwl.io.