Edmonton
Canada @ (CA)
Tel 2019-02-21
Categoria Events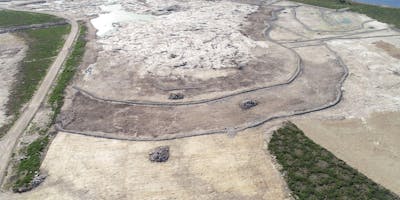 Abstract: Tundra Mine, located approximately 240 kilometres northeast of Yellowknife, NWT was an underground gold mine, in operation between the years 1964 and 1968, and supported operations at the nearby Salmita Mine from 1983 to 1987. Indigenous and Northern Affairs Canada (INAC) assumed responsibility for the site in 1998 after the mine operator was placed in receivership and abandoned the site. Mine operations had left the Tundra site with environmental and physical hazards. Upon assuming control, INAC undertook care and maintenance of the site, and completed a site wide assessment to identify the extent of environmental and physical risks. An overall remedial action plan (RAP) was developed based on studies and stakeholder consultation, and the site remediation was broken out into two phases.
Phase I remediation was carried out in 2007, and primary activities included demolition and on-site disposal of mill facilities, sealing of underground works, the removal and off-site disposal of hazardous materials, and the closure and capping of the former dump site. The following environmental issues of concern were identified in the RAP to be addressed at part of the Phase II work: Potentially acid generating (PAG) waste rock Arsenic rich tailings Arsenic impacted water in the Tailings Containment Area (TCA) Petroleum Hydrocarbon contaminated (PHC) soils. The Phase II remediation work activities were completed between 2010 and 2017 and generally included the following:   Water treatment of over one million cubic metres of arsenic impacted water On-Site PHC contaminated soil treatment Removal and relocation of over 200,000 cubic meters of tailings into the TCA Disposal of PAG rock and treated PHC soils into the TCA TCA construction and grading, bituminous geomembrane (BGM) liner system installation and cover material placement covering more than 26 hectares Excavation and grading of a diversion ditch around the TCA, including BGM liner installation, and placement of drainage rock Construction of a channel between Mill Pond and Upper Pond Upper Pond stabilization and armouring with granular aggregate material Borrowing of granular aggregate material from various sources Borrowing of cover soils and stabilization of the West Lower Pond Borrow Area (WLPBA) Regrading and armouring of Lower Pond General site cleanup, minor demolition, grading, and maintenance   The objective of the presentation is to provide a summary of the project remediation works and highlight the engineering challenges experienced with the Tundra Mine site remediation, specifically during the 2017 construction season, including: borrow source identification, designing to bedrock depths and permafrost protection; construction over the TCA; and managing sedimentation and erosion potential in the design.
  Presenter: John MacKenzie, P.Eng John MacKenzie is an Environmental Engineer with over 7 years of experience including Northern and arctic remediation, waste management and construction management. John's responsibilities include completing remedial designs and specifications, environmental inspections, resident engineering and contract management. He has been involved with the Tundra Mine remediation site for 3 years and has completed work for other Northern projects including the Giant Mine Roaster Complex Demolition project and Colomac Mine monitoring.