Understanding and Preparing for the Reality of Dementia
Saint-Lambert
Canada @ (CA)
Tel 2019-05-15
Categoria Events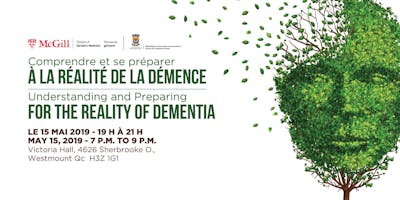 This public lecture aims to raise awareness and provide basic information about Alzheimer's and other dementia-related diseases. Leading experts have come together to share their knowledge and expertise with the community and to provide essential information that will help families to understand and access the resources needed to navigate the disease. Neurologist Dr. Serge Gauthier will discuss the medical aspects and impact of the disease, including the behavioural and psychological symptoms, geriatrician Dr. José A. Morais will share his advice on ageing well and keeping your loved ones safe and secure, and former caregiver and Certified Alzheimer Care Consultant Claire Webster will share her personal journey and lessons learned. Prevention Before and Following the Diagnosis of DementiaDr.
José A. MoraisAssociate Professor and Director, Division of Geriatric Medicine, McGill University Understanding the Medical Aspects and Progression of DementiaDr. Serge GauthierDirector, Alzheimer's Disease Research Unit, McGill University Research Centre for Studies in Aging Caring for a Loved One Who Has Been Diagnosed with DementiaMs. Claire WebsterAlzheimer's Care Consultant and FacilitatorFounder and President of Caregiver Crosswalk Inc. ----------------------- Cette conférence sera donnée en anglais. Cette conférence publique vise à sensibiliser et à fournir des informations essentielles sur la maladie d'Alzheimer et d'autres maladies liées à la démence. Des spécialistes de renom viennent partager leurs connaissances et leur expertise afin d'aider les familles à mieux comprendre les ressources nécessaires pour faire face à la maladie, et à accéder à ces ressources.
Le neurologue Serge Gauthier abordera les aspects médicaux et de l'impact de la maladie, y compris les symptômes comportementaux et psychologiques, le gériatre José Morais donnera des conseils sur le bien vieillir et la protection de vos proches, et la conseillère spécialisée en soins pour l'Alzheimer et ancienne proche aidante Claire Webster fera part de son parcours personnel et des leçons apprises.