Montreal
Canada @ (CA)
Tel 2019-02-09
Categoria Events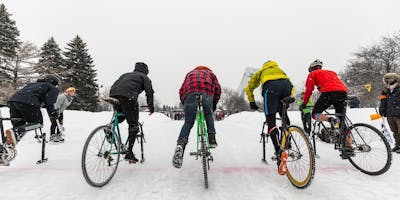 Pour la troisième année consécutive Honesca organise la course de Vélo sur Glace au parc Maisonneuve de Montréal. Une fois de plus vous aurez l'occasion de voir défiler des vélos munis de clous et de patins à glace filer à toute allure sur un anneau de glace. Pour cette édition 2019, nous avons le plaisir de vous présenter la course des "Gros Bécik", une course réservée aux vélos aux pneus surdimensionnés (26+, 27.5+, 29+) . Un parcours spécial sur neige tapé et un peu de glace) vous sera proposé. Au progrmme: Une course de vélo sur glace Une course de Fat bike Des essais de vélos à patins et à clous pour petits et grands 3 concours à vélo tout au long de la journée Des kiosques d'informations sur le vélo Des kiosques d'artisans locaux Un camion de rue Un Dj set Des démonstrations et plus encore.




​ Notre équipe et le Centre d'intégration à la Vie Active (CIVA) proposeront également l'activité aux personnes à mobilité réduite avec un vélo à bras et un tricycle avec des pneus à clous. --------------------------------------------------------------------- For the third year in a row, Honesca is organizing the Bicycle on Ice race at Maisonneuve Park in Montreal. Once again you will have the opportunity to see bikes with studed tire and ice skates running at full speed over the ice. For this 2019 edition, we are pleased to present the "Gros Bécik" race, a race reserved for oversized tires (26+, 27.5+, 29+). A special courseon snow and ice will be offered. Program: - An ice bike race - A fat bike race - Trials of skate and nail bikes for young and old - 3 cycling contests throughout the day - Information kiosks on the bike - Kiosks of local craftsmen - A food truck - A Dj set - Demonstrations and more.


Our team and the Center for Active Living Integration (CIVA) will also offer the activity to people with reduced mobility with a hand bike and a tricycle with studded tires.