Vegan Film Festival: OIVFF x VVF
Burnaby
Canada @ (CA)
Tel 2019-05-09
Categoria Events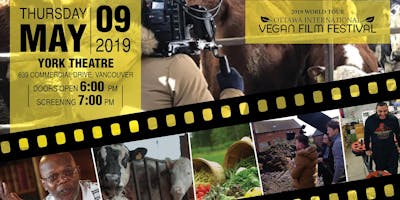 Vancouver Vegan Festival is honoured to bring the Ottawa International Vegan Film Festival to Vancouver.   The Ottawa International Vegan Film Festival is a trailblazing event dedicated to celebrating the vegan ideal: a healthier, compassionate, environmentally friendly lifestyle that can be achieved through the consumption of plants and animal-free alternatives. Join us for a night of award-winning film viewing surrounding veganism, snacks on offer from Urban Leaf Plant Based Foods, Beer + Wine service, and guest speakers Indian Rock Vegans, who are featured in Eating You Alive. DOORS: 6pm  SCREENING: 7pm VIEW THE TRAILER: https://youtu.be/QQBKyWnUJ40 THE FILMS:  ---------- 73 COWS Runtime: 14m, 59s Directed by: Alex Lockwood Produced by: Alex Lockwood Language: English Country of Origin: UK Beef farmer, Jay Wilde, struggles with his conscience every time he takes his cows to be slaughtered.
Feeling trapped within an industry he no longer believes in, Jay decides to do what no beef farmer in the UK has ever done before - saving all of his cows from slaughter. ---------- PROMISES Runtime: 5m, 37s Directed by: Jan Sorgenfrei Language: English Country of Origin: Denmark Behind the closed doors, in the dark and out of human sight, Jan Sorgenfrei and award-winning Toronto based photographer Jo-Anne McArthur, conduct an investigation into the industrial farming of chickens. ---------- UNDERCOVER Runtime: 3m, 33s Directed by: Kelly Guerin Produced by: We Animals Language: English Country of Origin: USA Undercover reveals the stark, mechanized workings of the slaughterhouse, offering an unflinching and intimate look at the animals caught in this system. ---------- PATRIK BABOUNIAN, BUILT BY PLANTS Runtime: 6m, 27s Directed by: Jonathan Rosenberry Produced by: Compassion Over Killing Language: English Country of Origin: USA Patrik Babounian, one of the strongest men in the world, isn't called "Vegan Badass" for nothing as he speaks about his plant-based diet and his compassion for animals.
---------- EATING YOU ALIVE Runtime: 1hr, 48m Directed by: Paul David Kennamer, Jr. Produced by: Merrilee Jacobs Language: English Country of Origin: USA Featuring leading medical experts and researchers, Eating You Alive takes a scientific look at the reasons we're so sick, who's responsible for feeding us the wrong information and how we can use whole-food, plant-based nutrition to take control of our health—one bite at a time. ---------- A MOTHER'S MONOLOGUE Runtime: 8m, 12s Directed by: Marzieh Kamyabi & Mehdi Shaafi Language: Persian (with English subtitles) Country of Origin: Iran A documentary about people volunteered to watch a film about animal industries and eat meat at the same time. They did not know anything about the content of the film they had to watch.
----------- EVAN'S VIDEO ABOUT CLIMATE CHANGE Runtime: 5m, 30s Directed by: Paul Magee Berry & Ray Kowalchuk Produced by: Shannon Blair Language: English Country of Origin: USA Evan is seven, and that's not too young to understand climate change, and the impact of animal agriculture on the whole carbon cycle -- including the part Big Business doesn't want you to know about. ---------- FOR THE VOICELESS Runtime: 13m, 17s Directed by: Jordan Owens Produced by: Jordan Owens Language: English Country of Origin: ​Canada The story of professional hockey player Jordan Owens and his transformation from meat eating athlete to vegan activist. ---------- www.oivff.com This screening is a fundraiser for #VVF2019 and ticket sales will go towards ensuring that VVF is always FREE to the public, and providing low cost booth space to sanctuaries and non-profits.  Thank you to our sponsors Earthsave Canada + Urban Leaf Plant Based Foods for their support.  Hosted by The Vegan Project + Peaces + Peace People Project