Virtual Reality Meditation Concert
London
Canada @ (CA)
Tel 2019-01-12
Categoria Events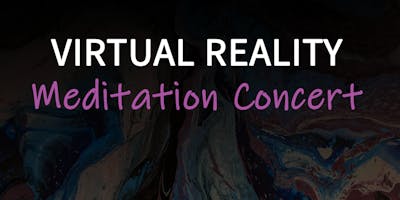 VRcadia with Platero Visual & I.Am Design Haus collectively present... VR MEDITATION CONCERT featuring JWMB3 & AVM Come enjoy an audiovisual concert experience like nothing else. Combining music, video, dynamic lighting, VR headsets, and cutting-edge tech you've never seen before, we'll take you to another world we've carefully created just for you.   Included in the ticket price: Your own experience in a virtual reality booth during the show. Unlimited premium herbal tea. Couches and foam mats for laying down to bask in the music. Full musical concert sets by two amazing artists. For maximum enjoyment, you're welcome to bring your own mug, pillow, blanket, or other things to help you feel right at home. People from all experience levels and walks of life are equally welcome.No prior meditation experience necessary.




Experienced meditators will find something new and wonderful, too.  FEATURING JWMB3 – meditative multi-instrumental sample-mixing ambient magic for your soul.Joseph invites you to come get cozy, relax, and restore. We can't wait to unwind. AVM – multi-layered low-frequency immersive ambient waterfalls – dive in. The water is warm and wonderful.Andrew mysteriously intones: "I am animal... and vegetable... and mineral – and so are you." We're intrigued. VRcadia: advancing the virtual future. Featuring seven gorgeous virtual reality booths in an open-concept studio beautifully arranged in waves of soothing purples, blues, and grays – it's VR like you've never seen before. Platero Visual is changing the landscape of video experience and visual art, which must be experienced to be believed.


I.Am Design Haus is a collective of creators and curators who make space for you to have extraordinary experiences. Regrettably, VRcadia is not wheelchair accessible. There is a long staircase with 18 steps and a handrail at the entrance.