VR/AR Workshop: Building AR Apps on Magic Leap and Mobile
Toronto
Canada @ (CA)
Tel 2019-02-22
Categoria Events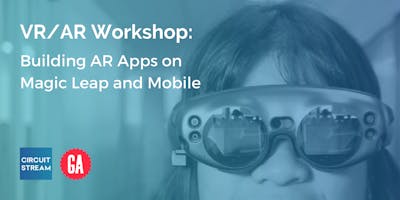 Circuit Stream and General Assembly partner to bring Torontonians an insider's look at building for Magic Leap and Developing for Augmented Reality. These events have limited seating, so snag your seats and RSVP right away. Friday - Magic Leap 101 Feb 22, 6:30-8pm At General Assembly Toronto, Circuit Stream founder Lou Pushelberg will demonstrate what developers need to know before starting with Magic Leap, including its capabilities and limitations. Plus, we'll have a Magic Leap One ready for attendees to try. You'll discover: How the Magic Leap One is different from Microsoft Hololens What we're most excited about Magic Leap's Development Guide Real use-cases for Magic Leap's AR Saturday - Building Your Own AR App Feb 23, 10am-4pm Learn how to make your own Augmented Reality app onto your mobile device using Unity.
Beginner friendly, no previous experience is required. Lunch is provided. By the end of the Introductory Workshop, you will understand the basics of AR  development and you'll get to know the community and learn about resources to help startup your own AR/VR projects. During Saturday's workshop, you will: Learn how industry leading tools like Unity are used to create Augmented and Virtual Reality apps Learn about opportunities in the AR and VR industry Learn about resources to create your own AR apps You'll learn: How an an augmented reality app is built from scratch with Unity for Vuforia How to get started creating AR apps of your own, including building your own app during the workshop Sponsorship Partners: Circuit Stream Instructors: Lou Pushelberg and Usman Mir have a combined 15+ years of experience building VR and AR software and applications in Unity.
They've worked on professional projects that include commercial releases for large enterprise companies, VR/AR studios, and independent contracts as well as self-publishing original content on the App Store. Circuit Stream's Advanced Courses: Circuit Stream teaches online 10-week VR/AR Development with Unity courses for creating virtual reality and augmented reality apps. Our next cohort begins on March 26th. Learn more about Circuit Stream at circuitstream.com  or by sending us an email at
[email protected]
Testimonials for Circuit Stream Courses: "With no coding experience, Circuit Stream kickstarted my path in VR development." – Arush, Chemical Engineer – Toronto "I learned to create apps for the HTC Vive while making some great connections to the VR industry.
I feel confident in becoming a VR developer now." – Maria, Graphic Designer – Toronto "Gave me hands on experience with Unity, which I had no prior experience with. I'm ready to start making my own VR games. " – Eric, Android Developer – Vancouver