Women in Governance's Annual Recognition Gala 2020 / Gala de reconnaissance annuel de La Gouvernance au Féminin 2020
Toronto
Canada @ (CA)
Tel 2020-03-03
Categoria Events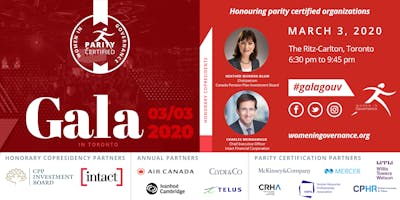 * Version française plus bas * Women in Governance's Annual Recognition Gala will take place on Tuesday, March 3, 2020, from 6 pm to 9:30 pm, in the ballroom of The Ritz-Carlton, Toronto. During this prestigious evening, Parity Certified companies will be honored for their outstanding actions in favor of gender equality. Don't miss this unique opportunity to pay tribute to companies certified by Women in Governance and its Parity Certification partners: McKinsey&Company, Mercer and Willis Towers Watson. This Gala will bring together leaders from the corporate and political world, men and women, working together for the achievement of gender parity. This innovative standard not only assesses parity at the decision-making level but also evaluates the organization's commitment to the implementation of mechanisms that enable women at all levels of hierarchy to achieve career advancement, thus creating a pipeline of female talent.
In order to obtain their accreditation, organizations must adequately structure their procedures and meet the various selection criteria. - For more information about the Parity Certification or to apply, please visit our "Certification" page or send us an email at
[email protected]
- If you also wish to be one of Women in Governance's prestigious partners, or for any other information, please contact us at
[email protected]
  - Visit our website to see the images from our 2019 Gala. More information: * Formal attire (evening/cocktail) ** Refund Policy: No refunds 7 days before the Gala, but you may transfer your ticket to another person. Act fast. Seats are limited. Le Gala de reconnaissance annuel de La Gouvernance au Féminin se tiendra le mardi, 3 mars 2020, de 18 h à 21 h 30, dans la salle de bal du Ritz-Carlton, Toronto.
Au cours de la soirée, les entreprises certifiées Parité par La Gouvernance au Féminin se verront honorées pour leurs actions exceptionnelles en faveur de l'égalité des genres. Ne manquez pas cette occasion unique de rendre hommage aux entreprises certifiées par La Gouvernance au Féminin et ses partenaires de la Certification Parité : McKinsey&Company, Mercer et Willis Towers Watson. Ce Gala rassemblera les têtes dirigeantes du monde des affaires et de la politique, hommes et femmes, travaillant ensemble pour l'atteinte de la parité. Il s'agit d'une norme novatrice qui ne se penche pas uniquement sur la parité dans les organes décisionnels des entreprises mais également sur la préparation de la relève et la mise en œuvre des mécanismes nécessaires pour permettre aux femmes de tous les niveaux hiérarchiques de faire progresser leur carrière créant ainsi un vivier de talents féminins.
Afin d'obtenir leur accréditation, les entreprises doivent structurer leurs démarches et répondre aux différents critères de sélection. - Pour de plus amples informations au sujet de la certification parité ou pour poser votre candidature, consultez notre page "Certification" ou envoyez un courriel à
[email protected]
- Si vous souhaitez faire partie de nos prestigieux commanditaires ou pour toute autre information, envoyez un courriel à
[email protected]
- Consultez notre site web pour voir les images de notre prestigieux Gala 2019. Informations complémentaires : * Tenue de cocktail- Costume sombre / robe cocktail. ** Politique de remboursement : Aucun remboursement 7 jours avant le Gala, mais vous pouvez transférer votre billet à une autre personne.
Faites vite . Les places sont limitées . ****