Women Leaders in Business: Innovation for Sustainable Development
Ottawa
Canada @ (CA)
Tel 2019-03-15
Categoria Events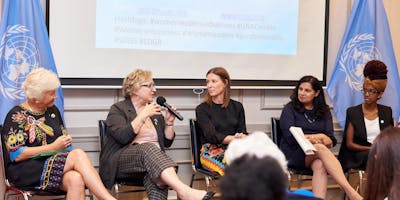 Join us for Lunch and Inspiration. UNA-Canada's Women in Leadership Series presents: What: Women Leaders in Business: Innovation for Sustainable Development When: March 15, 2019, 11 a.m. - 1h30 p.m. (including lunch) Where: Canadian Museum of Nature UNA-Canada is proud to showcase talented female entrepreneurs and corporate leaders to ensure women's full and effective participation and equal opportunities for leadership at all levels of decision-making in political, economic and public life. This High Level Panel will feature leading and innovative Canadian women in governance, capital markets, health and business, to discuss success strategies and opportunities from their personal and professional experience. The luncheon and panel will engage 200+ attendees, comprised of young scholars, corporate leaders, the private sector, academia & civil society, including the attendees of the CANIMUN conference.
                                                      Past Women in Leadership Events Note: professional photos will be taken at the event, which will be used by UNA-Canada for promotional purposes, please let us know if you do not want your picture to be included in our promotional materials. As well, please let us know if you have any dietary restrictions. All comments/questions to be sent to: 
[email protected]
                                                                 Network, Learn, Inspire & Celebrate.