Writing Winning Proposals: How to Get That Grant!
Edmonton
Canada @ (CA)
Tel 2019-01-26
Categoria Events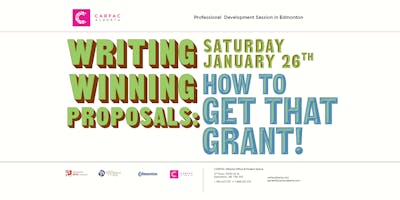 11am – 12:30pm: Kari McQueen (AFA) & Stephen Williams (EAC) will explain what grants are offered by their respective organizations. They will give concrete information as well as tips and tricks to help you succeed in your grant applications. Free to All. 2 – 4pm: Book a 25–minute meeting with either Kari McQueen, Chris W. Carson, or Sharon Moore-Foster to look over a final draft of your AFA or other application–in–progress and get suggestions on making your application shine. $10 for non-members, free for members. This Eventbrite page is for RSVPing to the 11am talk with Kari and Stephen, not booking for application review. To book an appointment for that afternoon, contact Sharon Moore-Foster by
[email protected]
or phone at 780.421.1731.