Your Life – Your Path – Your Choice
Edmonton
Canada @ (CA)
Tel 2019-01-31
Categoria Events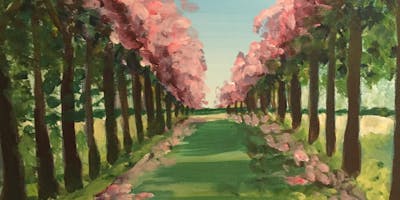 AWiLL is pleased to Connect you to an evening with artist Jenn Kovachik. Through the use of oils and canvas Jenn will help you create your Pathway for 2019. About Jenn  Always a creative child, Jenn had not entertained her artistic side for 10 years as her life was unfolding and coming together. Starting with pencil, her portraits became more and more realistic looking, and friends and family encouraged her to develop this refreshed love affair she had with making drawings come to life. She took a beginners art class by the incredible artist and human, Frank Haddock at Grant MacEwan Art campus in Edmonton, followed by a month of oil paint lessons at Pro's Art, and continued to put in 10,000 more practice hours at her home studio. Since she began her art journey, she's had many fascinating life experiences that come with pursuing your passions and following your dreams.   She believes in the healing power of love, music, laughter, and gratitude.




She is an ambassador for kindness, equality, and fairness. Jenn is inspired by the human connection, pop-culture; the wild, the clever, the hilarious, and the majestic snippets of life.   Born in Ottawa, Ontario, Canada, she was raised in Edmonton, Alberta, where she still resides. When she's not working, painting, or teaching art classes, she's listening to music, travelling to warm and colorful places, spending time with friends and family, and/or looking for ways to make the world better.  Jenn became a member of AWiLL in early 2018 and we are fortunate to have her share her amazing talent with us for this event.  Visit her website: www.jennkovachik.com Cost: $42.50/person. Light snacks provided. Other food and drink items are available for purchase. Canvas and all painting supplies to be provided.


Details: Several parking lots nearby. Street parking is free after 6:00 pm LIMITED SEATING – REGISTER EARLY TO AVOID DISAPPOINTMENT.