YYC GIRL GANG PRESENTS: Markets 101
Calgary
Canada @ (CA)
Tel 2019-02-25
Categoria Events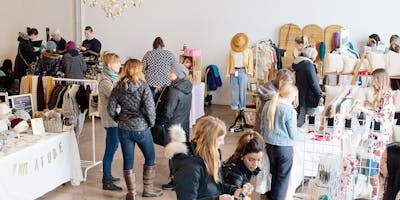 Do you want to sell at markets? Do you feel like you don't know where to start? Have you been doing markets and not seeing the results you were hoping for? We are hosting a workshop with Megan of Mackenzie Jones to help you slay it at markets.   Whether you are just starting out or you have been at it for a while, you can build your business and increase sales by selling at markets. Learn from someone who has made the mistakes and learned the ropes. There are so many little tips that will make your market life easier. What you'll learn: Picking the right markets for you Tips for polishing up your application Show Organization + Booth Display 101 How to sell in person at markets What to bring: a fully-charged phone photos of your product(s) images or mockups of you your current or in-progress booth display About Megan Mackenzie Jones: Megan owns Mackenzie Jones, a local handcrafted jewellery company.
In the 4 years since jumping in full time she has done more than 100 markets across Canada including One of a Kind in Toronto and most notably, the Calgary Stampede where she has won Awards 3 years in a row. Megan is always willing to share what she has learned from her market life, to help new makers start off on the right foot. She graduated with honours from the Alberta College of Art + Design with a major in Jewellery + Metals in 2010.  Cancellation & Refund Policy: In the event you need to cancel your spot, you can resell your ticket personally and provide the replacement name to YYC Girl Gang by email (
[email protected]
). Replacement names will not be taken 1 business day before the event/workshop. Alternatively, you may ask YYC Girl Gang to resell your ticket to someone on the waitlist.
At this point you will forfeit your claim on the ticket and will not receive payment if the ticket is resold. Anyone not on the guest list, will NOT be permitted into the event. By purchasing a ticket you concent to release YYC Girl Gang and it's founders from any liability for accident, injury or death resulting from attending this event.